It is possible to be a single mom and still have financial success. Here are 8 very useful financial tips for a single mom.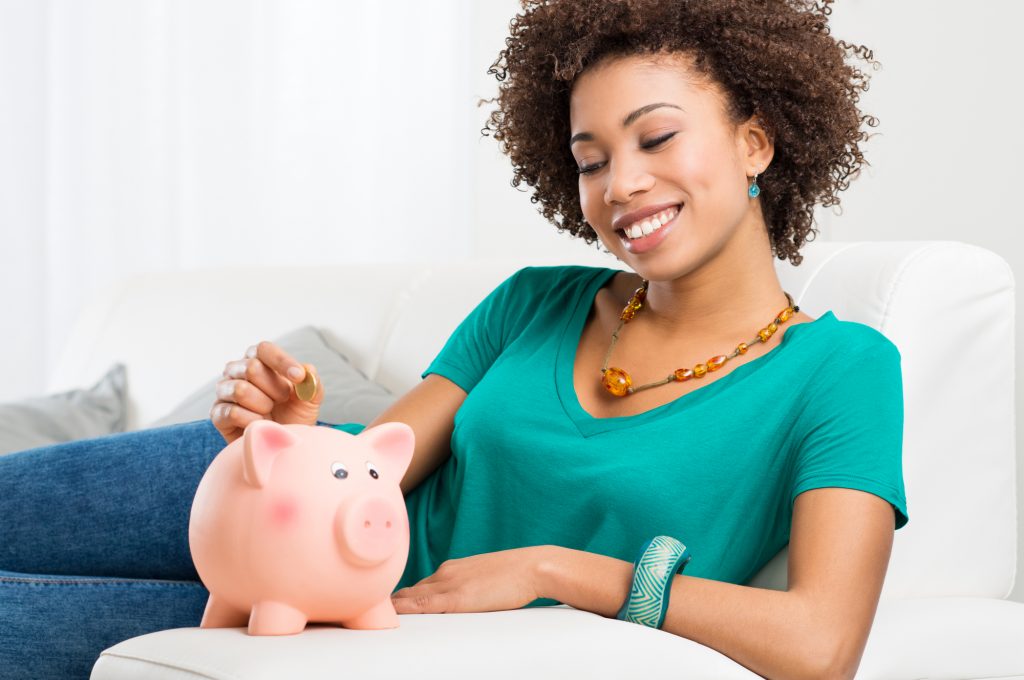 Financial Advice for Single Parents
Want to learn how to thrive as a single mom? Here are 8 really cool Financial Tips for a Single Mom.
There's something about becoming a single parent that automatically makes you think you are going to be living in public housing and buying groceries with food stamps.
But that is not always the case! And if you think that way, get those thoughts out of your head right now.
Because being a single mom isn't the worse thing in the world. And it definitely doesn't mean you need to work 3 jobs or live in poverty.
There are many ways you can still be financially successful as a single parent. But it all starts with the way you handle your finances.
These Financial Tips for a Single Mom will help you change your mindset and give you and your kids the life you all deserve!
Keep Reading: How to Survive Financially As a Single Mom
Single Mom Going At It Alone
I can sit here and easily write this because I am that mom. I moved to a new state across the country when I was 8 weeks pregnant. And I became a single mom when my daughter was just 6 weeks old.
I had no friends, no family, and no place to live.
Being a single mom wasn't going to stop me from living the life I wanted to live. I just needed to be more creative about how to do it.
I've since purchased a home, paid off the majority of my debt, and travel quite often with my 11-year-old daughter. She even has a college account started and I'm planning an early retirement.
How did I do it? Simple! I didn't let my finances control me. I controlled my finances. And you can too!
Here are the top 8 financial tips for single moms you need to hear to live a life of wealth and happiness.
Single Moms Tips For Financial Success
Being financially successful isn't just about making a sh*t ton of money. It's about the decisions you make and the way you manage your money.
1 – Be organized and have a plan
When you are a single mom, you have to do it all. You work and pay the bills. You take care of the kids and the entire household. It's tough to do it all!
The best thing you can do for yourself is to keep your finances as organized as possible. Invest in a budget planner and a regular old day planner to keep track of your bills.
Always be aware when something is due and don't make any late payments. Paying late fees is definitely something you want to avoid to be financially successful.
Start with a good budgeting worksheet like this one…
Take some time to create a financial plan. Go over your budget, make a debt payment calendar, and figure out how much you can save each month.
Set some financial goals. Do you want to take a big vacation? Retire early? Pay for kids' college education? Having actual goals make it easier for people to stick to their budget to get the life they want.
2 – Accept Help with a Support System
Single moms are tough. And we develop a thick skin that tells us we need to accomplish everything on our own.
But don't let this stop you from accepting help when help is needed. If a friend is willing to help babysit, take them up on it to save money. Or do a babysitting exchange and return the favor.
Find other ways to accept help. There are tons of single moms in places like Facebook groups and on Instagram that are dedicated to single moms.
Need a new snowsuit for your child? Ask if anyone can lend you one. Does your child need sports equipment? Look for other moms who don't need it anymore. Then return the favor when you can.
Learning how to accept help or exchange items can save you tons of money on expenses that seem to pop up constantly, that you didn't plan for.
Keep Reading: The Budgeting Categories You Probably Forgot To Add To Your Budget
3 – Invest in yourself
Life is not always about your kids when you are a single mom. And if you want some financial tips as a single mom, you need to learn how to invest in yourself first.
Contribute whatever you can to your 401k or retirement account. Build up those savings. My 401k helped me put a down payment on a home. That home increased in value and when I sold it, I made enough profit to clear all my credit card debt and have another down payment for a nicer home.
That never would have happened if I didn't invest in myself first.
The good news is, you only have one person to support when you retire. That bad news is, you only have one income to save up for retirement. But that's what makes it so important for you to invest your money whenever possible.
Invest. Save. Buy a home.
Just because you are a single mom, doesn't mean you have to work multiple jobs until you are 80 years old.
4 – Learn Frugal Living
No, you don't need to live in a tiny home and eat rice and beans your whole life. But learning the frugal lifestyle can be a huge financial difference as a single mom.
Take time to figure out what you really need in life. Can you do without new clothing every month? Can you reduce how much you spend at Target each trip? Can you cut down on home decor and mindless spending?
Finding ways to cut back and live more frugally will not only allow you to live a more comfortable life now, but it will also help you get to your goals a lot faster too.
5 – Don't accumulate debt
Debt equals stress. Being a single mom, you already have enough stress in your life. You don't need to add more.
One of the best financial tips for a single mom is to stay out of debt. Stop using that credit card unless you get benefits from it.
Stop spending money you don't have. And learn to cut back and budget your money so you don't go over your income every paycheck.
Once you start accumulating debt, it can be really hard to get out of. The best thing you can do to get out of debt is to never get into it in the first place.
Keep Reading: How To Stop Spending Money You Don't Have
6 – Set short term and long term goals
Setting goals give you motivation. Without goals, you work and save mindlessly but you don't feel remorse if you blow a budget or get into debt.
By setting a short term goal, you have something to motivate you to keep going month after month. Make it attainable and where you can see progress.
Some great short term goals are:
Pay off one debt
Save $1,000
Save enough money for a vacation
Save enough money for a new purse
Stick to meal planning for en entire month
Make it a challenge to reduce your electric bill by a few dollars every month
Now make some long term goals. Goals that may take several years to accomplish but that give you something to work towards.
Pay off the car
Pay off Student loans
Have a certain amount in the 401k
Have bank accounts started for the kids
Reduce monthly expenses for an entire year
Earn more income each year than the previous year
Goal setting can help trigger new behaviors and help you focus on what's important. So start making some goals today!
7 – Make Money and don't be afraid to work
Just because you are a single mom does not mean you have to settle for living on one income. I have never had one income in all my years as a single mom.
That also doesn't mean I work myself to death and never see my daughter. But it means I'm not afraid to hustle and work as much as I can.
I seek out overtime and bonuses when my company offers it. And I find ways to make money with either a second job or side hustles.
This blog brings in part of my monthly income and allows me to work from home any hours I want.
There are many jobs moms can do while staying at home with their kids. Find something that works for you and don't be afraid of some extra work.
Your kids will see this and they will develop their own work ethic based on how hard they saw their mom work.
Keep Reading: 21 Legit Ways To Make An Extra $1000 a Month From Home.
8 – Get away from the single mom mindset
The absolute worst thing you can do as a single mom is to have a 'single mom mindset'. I see so many single moms just resign themselves to being poor, not owning a home, and not planning for their future.
And why do they do that?
Because they really think it's not possible as a single mom. They have given up before they even try.
Change your mindset.
Single moms can be every bit as successful as other moms, or dads too! It's all about your mindset and what you do with it.
Single moms can buy homes. Single moms can invest their money. And single moms can retire early.
It's all possible. It's just a matter of how much you want it. You can do it!
Conclusion
Think of it this way. There are many households with two parents but only one who works. They budget and run things on a single income. But they have double the payments. Two cars, two cell phones, two student loans.
You may be running on a single budget but you only have to support yourself in those areas. So that right there puts you way ahead of most single-income households.
Being a single mom shouldn't stop you from living a comfortable life and giving your kids everything they need. It's all inside you. You can make it happen. And you can be financially successful if you want to!
Go get 'em Mama!
You Might Also be interested in: